Here at SmartModernArt we have a simple philosophy: to bring you an exclusive and unique range of quality made contemporary canvas prints at an affordable price. We don't mass produce our canvas art, in fact we don't carry any stock. Instead we individually print and hand craft each canvas to order.
How is our Canvas Art made?
Our canvas art consists of a 1.5cm deep, solid wooden frame (known as a stretcher) with a printed canvas stretched tightly over it and fastened on the reverse. This creates a modern, chunky, frameless image that is often referred to as 'gallery wrapped' canvas.
Canvas and Framing
All SmartModernArt artwork is printed at high resolution onto 350gsm quality matte 100% Pure cotton canvas.
We use only quality artists stretcher bars which are made of the finest precision-cut kiln dried pine fir timber. Each bar features a rounded back edge which is designed to ensure that the canvas is always kept above the stretcher bar to ensure that there can be no "ghost" impressions on the canvas. Cross-bracing is used when required and these stretcher bars also incorporate adjustable 'wedges' which are placed in each corner and allow the canvas to be stretched tightly over the frame and re-tightened in the future. Fir wood also has the advantage of being very light, yet extremely hard wearing and not susceptible to warping like standard pine.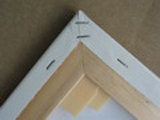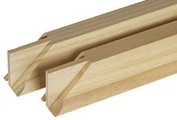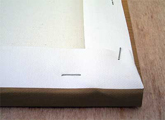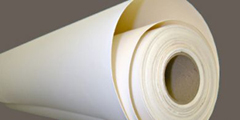 Beware, many other canvas art manufacturers simply wrap their prints over cheap, fixed frames, not stretcher bars. Wood and canvas are natural materials that can expand and shrink under different environmental conditions (e.g. in a centrally heated house or an air-conditioned office).
Printing and Ink
At SmartModernArt.com our art is created using a method know as 'giclée' printing.
Giclée (ghee-clay) is a coined art term. It is a French word which literally means 'to spit' or 'spray'. Giclée prints are produced using very sophisticated inkjet technology that can produce microscopic droplets of coloured inks that are sprayed onto the canvas. The special inks combine to produce a continuous tone of high quality colour output and detail.
We use the latest wide format giclée printers from Epson that utilise special ultrachrome inks. These cutting edge inks produce superb, bright colours and are lightfast (will not fade) for up to 75 years.
Postage and Packaging

Your finished artwork will be carefully wrapped in protective materials and our own custom packaging to ensure your artwork arrives to you in perfect condition. We then ship the canvas out to you using a fully Insured Parcel service.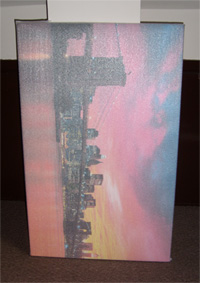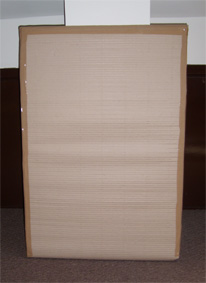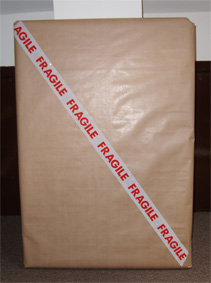 Hanging
Your canvas will arrive ready to hang with free (and very simple to use) hanging kit and care instructions included. You only need a hammer!
Design
Our images are sourced from paid websites and printed under licence and also digitally hand drawn images created using Adobe Photoshop/Illustrator software. We at SmartModernArt respect the intellectual property rights of everyone. If you see an image that you think may infringe your intellectual rights, please contact us and this will be rectified immediately.
So if you're looking for a cool and contemporary piece of quality art that wont break the bank look no further than SmartModernArt