Featuring music icons of past and present. Some tragically gone, others still going strong.
From extravagant lead singers to classic bands, this entire range of art is created exclusively
by us with all framing and finishing done to order in studio.

Cult figures and iconic stars of the big screen captured in this exclusive art collection.
Featuring classic movies such as Star Wars, Scarface, Pulp Fiction and many more.

Ltd Edition Movie and Music Canvas
These canvases are limited edition as they have been produced using subtle and soft colours to create a collection with a retro feel to it. Only 20 of each item to be produced!

Got a wall to fill? Almost all of our canvases can be made into an eye-catching piece of large
multi panel artwork. These are just a small gathering of my favourites.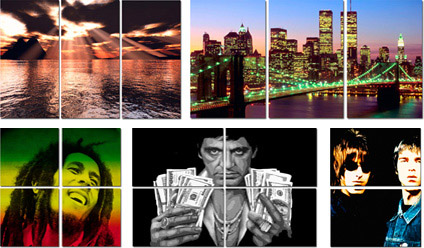 The anonymous graffiti and street artist phenomenon that is Banksy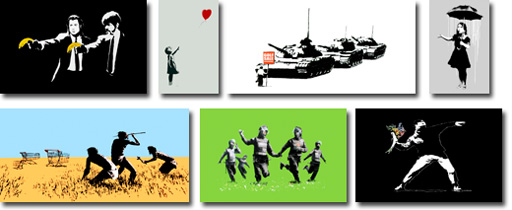 Bring the bright colours of the big city to your home with this selection of canvases.
From the beautiful New York City to San Francisco Bay and London. A gorgeous view
is guaranteed with our unique selection of cityscape art!

Stunning seascape art prints, beautifully colourful and vivid. All featuring a view of the sea.

Landscapes of mountains, beaches and lakes. This range was produced with a "peaceful
scenery" theme and soft sunlit finishes in mind. Nature at its best on canvas.

Abstract art for adding a contemporary and stylish feel to any modern living room.
These canvas prints can be quite random in there colour style, presentation and finish

These floral canvases are the perfect choice for adding a touch of nature to your home.
Our favourites are the selection of roses and daisies art and we also have a lovely
collection of other vivid floral wall art in our range including a "colour cut" finish.

Some of the best looking cars on earth printed on high quality canvas. Including our
brand new range of 3D canvas prints. Free 3D glasses included free with every order.

This features our studio designed retro striped collection in a range of bright and funky
colours. All available in a range of sizes. We also have a Space Invaders tribute canvas.

Featuring iconic sportsmen in some of there classic sporting moments. Including Bobby
Moore's triumphant pose, Muhammad Ali, Pele, David Beckham and others. This canvas
art collection is new and exclusive for 2012!

Keep up to date with the latest news and new additions at SmartModernArt.com. Subscribe to our RSS feed or view our Web Log for the latest great offers and brand new canvases.
There can some confusing jargon on art websites. Words such as giclee for example and perhaps you know what a stretcher bar is. Read our Frequently Asked Questions and About Us page if there is anything you are not sure about regarding the process involved with creating your canvas.